By Jennifer Rizzo
Questioned about a growing backlog of veterans' claims, a top Veteran Affairs official conceded Wednesday that veterans wait "too long" to receive benefits.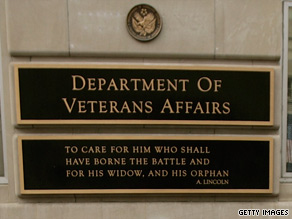 "Too many veterans still have to wait too long to get the compensation benefits they earn, and that is unacceptable to us," said Allison Hickey, Undersecretary for Benefits, during a hearing on Capitol Hill.
Senators pressed officials from the VA on the increase in the number of veterans waiting more than 125 days for their benefits claims to go through.
A recent report from the Center for Investigative Reporting found that since President Obama took office in 2009, the number of veterans waiting more than a year for their benefits has skyrocketed, from 11,000 in 2009 to 245,000 in December 2012, a jump of more than 2,000%.

The VA states the average wait time after a veteran files a claim is 273 days. But for veterans filing their first claim, including Iraq and Afghanistan vets, the wait is up to 327 days, nearly two months longer. In big cities such as New York, veterans could wait for almost two years. CIR analyzed the data obtained from a Freedom of Information Act request.
"When I look at the numbers four years later ... it's not getting better," Sen. Mark Begich (D-Alaska) stated during the hearing. "I can tell you that the increase in calls in my office are not going down."
Hickey cited an increase in demand because of the length of the wars in Iraq and Afghanistan and a decision to expand benefits to those suffering from illnesses associated with Agent Orange exposure during the Vietnam War.
"What I will say is the demand has risen, and I will go back to saying we have done a million claims a year," Hickey said. "These hardworking folks want to do what's right for their family members."
The number of claims has increased. In 2001, the VA completed approximately 480,000 claims, in 2002 approximately 796,000 claims and in 2003 around 827,000 claims, according to Vermont Sen. Bernard Sanders, chairman of the Senate Veterans' Affairs Committee. In 2010, 2011 and 2012, the VA completed more than 1 million claims each year, he said.
Veterans service organizations say filing a claim can be as challenging as filing a complex tax return or defending yourself in a lawsuit. In the meantime, veterans experience hardships.
"Our veterans go through a lot of the same everyday trials and challenges that everyone else does. They have bills to pay. They have mortgages. They have car loans. Many of them are going back to school, and on top of that they have their service-connected disabilities," said Jay Agg, spokesman for the veterans service group AMVETS. "So having to wait months, years for their benefits to which they're entitled is very frustrating, and it's just compounded when they have to deal with all these other challenges."