By Carol Cratty
A federal appeals court Tuesday tossed out the conviction of a driver for Osama bin Laden, dealing a blow to the U.S. military commissions system.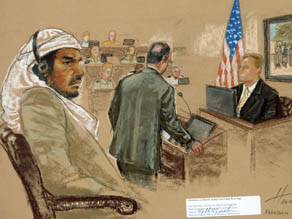 Salim Hamdan was convicted in 2008 of providing material support for terrorism. In a unanimous decision, a three-judge panel of the U.S. Court of Appeals for the District of Columbia Circuit overturned the conviction.
The court noted that Hamdan was found guilty based on conduct that took place from 1996 to 2001, but the charge of material support for terrorism only came into effect with the passage of the Military Commissions Act of 2006.
"Because we read the Military Commissions Act not to retroactively punish new crimes, and because material support for terrorism was not a pre-existing war crime," the court wrote, "Hamdan's conviction for material support for terrorism cannot stand."
Hamdan received a sentence of five and a half years in prison and got credit for having served almost all of that while detained before his military commission trial. He was transferred to his native Yemen in 2008, released from jail there in January 2009, and continued to appeal his conviction.
"It was important to him to have his name cleared of the conviction and he thought the principle was important," Harry Schneider Jr., one of Hamdan's lawyers, told CNN. Schneider said Hamdan realized many other detainees at the U.S. Navy base at Guantanamo Bay, Cuba, could be affected by the decision.
J. Wells Dixon, a lawyer with the Center for Constitutional Rights who co-authored an amicus brief supporting Hamdan's appeal, said the court's decision is an important one and will lead to more appeals.
"I think today's decision is reflective of a larger problem," Wells told CNN. "The military commission system involves uncharted territory. It's a second-rate system that we make up as we go along."
Zachary Katznelson, a senior attorney with the American Civil Liberties Union, said the decision "strikes the biggest blow yet against the legitimacy of the Guantanamo military commissions, which have for years now been trying people for a supposed war crime that in fact is not a war crime at all."
He added, "The government should prosecute any Guantanamo prisoners against whom it has sufficient legally obtained evidence in federal court, where the law is clear and prisoners have the legal rights necessary to ensure trials are fair, transparent, and viewed as legitimate. Anything less fails to live up to the standard of American justice."
Seven detainees have been convicted by military commissions, including Hamdan. Army Lt. Col. Todd Breasseale said all seven men were convicted of material support for terrorism. While most of the cases involved more than one charge, Hamdan and Australian David Hicks were found guilty only of material support for terrorism.
Bryan Broyles, the deputy chief defense counsel for the military commissions, said three other pending cases involve charges of material support for terrorism. The highest-profile case does not involve that charge. That is the case involving self-proclaimed 9/11 planner Khalid Sheikh Mohammed and four others charged in the 2001 terror attacks.
"The bottom line for us is, this is what we've been saying since 2006, that material support is not a proper charge," Broyles told CNN. "When we can get our grievances aired before an actual judicial body we win."
But Broyles hastened to add he thinks military prosecutors will look for other charges they can bring against Guantanamo detainees in place of material support for terrorism or conspiracy to commit material support for terrorism.
Justice Department spokesman Dean Boyd said only that department officials are "reviewing the ruling."
The ruling affects only military commission cases and does not apply to suspects convicted in the federal court system, in which material support charges have been allowed since the 1990s.
Human rights groups have called for terror suspects to be tried in the federal court system rather than before military commissions. That call was repeated in the wake of the court ruling.
"The Obama administration must work with Congress to overturn restrictions on transferring detainees to the United States for prosecution in civilian courts," said Raha Wala of Human Rights First.
CNN's Larry Shaughnessy contributed to this report.