By Adam Levine
New satellite imagery obtained by CNN's Security Clearance shows increased activity at a North Korean nuclear facility.
The imagery, provided to Security Clearance by GeoEye with analysis by Allision Pucionni at IHS Jane's, shows the extent of construction at the Yongbyon light water reactor since construction resumed this spring on the facility.
The satellite snapshot from June 24 shows components have been added to the reactor building, including across the open roof, according to Puccioni, a senior imagery analyst at IHS Jane's. A "traveling crane" can be seen and is believed to have been added in April.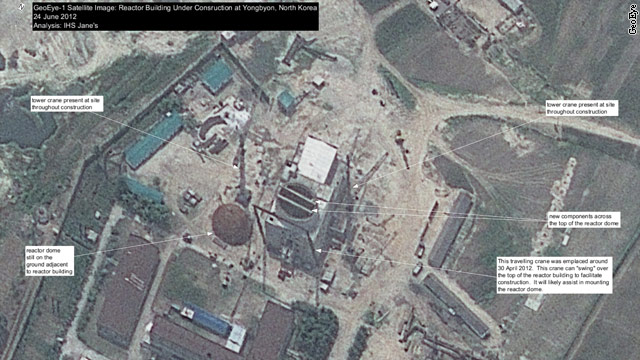 "This crane can 'swing' over the top of the reactor building to facilitate construction," according to Puccioni. "It will likely assist in mounting the reactor dome."
That dome is visible on the ground beside the main reactor building.
Pyongyang claims the reactor is "intended to help solve domestic energy shortages," according to the North Korea watchers behind the blog 38 North.
"It is also an important component in its effort to build nuclear weapons," according to the blog which published images this spring after construction resumed on the facility. 38 North is run by the School of Advanced International Studies at Johns Hopkins University.
Even when the dome is in place, a significant amount of work on the building will be necessary, according to Puccioni. The analysts at 38 North detailed what remains.
"The next major step in the construction of this facility will be the loading of the heavy components, such as the pressure vessel, steam generator, and pressurizer, likely through the cylindrical opening in the roof of the reactor containment building. Exactly when that process will begin is unclear; it depends on the availability of the heavy components," according to a May blog post. "Recently, the North Koreans stated that those components were being manufactured parallel to the construction of the reactor buildings. The loading process could last 6-12 months."
North Korea, which withdrew from the Nuclear Nonproliferation Treaty in 2003, had agreed in February to suspend nuclear activity at Yongbyon in return for shipments of food aid from the United States.
But Pyongyang then carried out a failed long-range rocket launch in April that Washington said breached the terms of that deal.
Work on the facility had stopped in December 2011, a development which, according to 38 North, was due either to the death of Kim Jong Il or, more likely, the approaching winter weather.