By Terry Frieden
A 20-year-old Saudi student in Texas has been convicted by an Amarillo federal jury of attempting to use a weapon of mass destruction.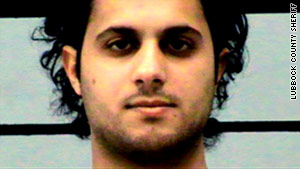 Although Khalid Ali Aldawsari had not yet constructed a bomb or selected a target, a jury found him guilty of the WMD charge and of illegally buying chemicals on line. The jury was unanimous in its decision.
The arrest focused attention again on the danger posed by "lone-wolf" terrorists.
Prosecutors told jurors the defendant's journal showed he had intended to cause violence and that he believed "it is time for jihad."  The government said Aldawsari had a target list that showed he considered trying to blow up hydroelectric dams and nuclear power plants. His list also included the Dallas home of former president George W. Bush.
Shortly before his arrest a chemical supplier had tipped off the FBI of a suspicious purchase.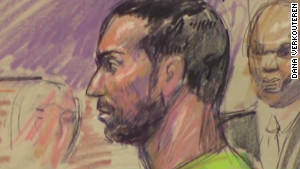 Aldasawri was arrested in February, 2011 near Texas Tech University in Lubbock. He had been formally enrolled on a student visa at nearby South Plains College. Officials said he had studied chemical engineering.
"As this trial demonstrated, Aldawsari purchased ingredients to construct an explosive device and was actively researching potential targets in the United States," said Assistant Attorney General for National Security Lisa Monaco.
Judge Sarah Saldana in Amarillo set sentencing for October 9. Aldawsari could receive a maximum sentence of life in prison and a $250,000 fine.