By Jennifer Rizzo
New satellite images show that North Korea is building a rocket launch pad and assembly center with similarities to a facility in Iran, according to an analysis by the defense publication IHS Jane's.
New construction at Tonghae, a facility on the country's eastern coast that was previously referred to as Musudan-ri, appears in satellite images taken by GeoEye in April.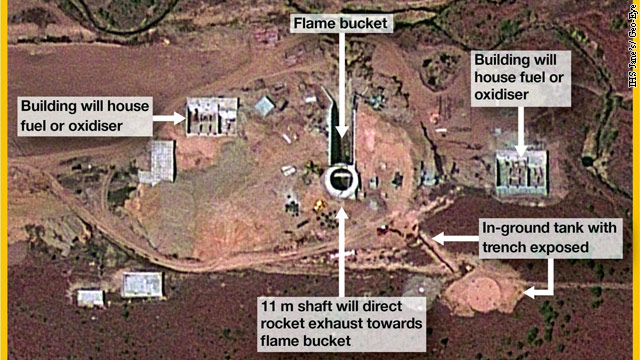 Jane's calls the construction "major" and says it appears to include work on a launch pad or engine test stand. While construction is in its early stages, some components, including fuel housings, are similar to those at the Semnan Space Center in Iran, according to Jane's.
This is the same site of failed satellite and missile launch attempts in 2006 and 2009. The recent April 13 satellite launch that ended in failure took place at the newer and larger Sohae Satellite Launch Station on North Korea's west coast.
A new building is also being constructed in a small village at the center of the Tonghae site, Jane's says. Analysis of the size and layout of the building by Jane's suggests it will be a horizontal assembly and checkout facility for rockets. This building is also similar to the recently completed rocket assembly and checkout facility at Semnan in Iran.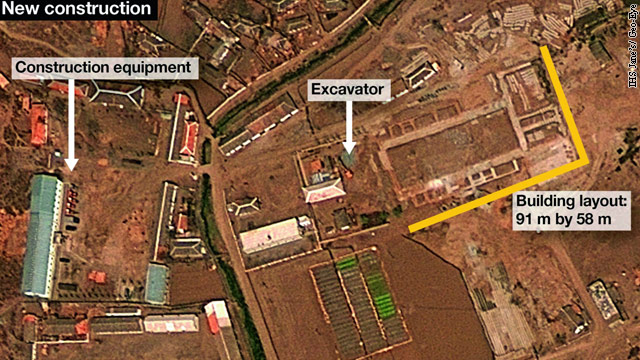 Calling the new work at Tonghae "surprising," a Jane's analyst speculates that North Korea may be redeveloping the site because it offers a greater margin of error than the country's "flagship" Sohae facility.
"There are 850 km of sea between the launch facility and Hokkaido, meaning that any rockets that re-enter on launch will splash down into the sea. Another possible factor is that an eastward launch takes advantage of the earth's rotation and amplifies the rocket's spaceward trajectory," said Allison Puccioni, an image analyst with IHS Jane's Defence Weekly.