By Jennifer Rizzo
Activity is ramping up at North Korea's nuclear test site, a sign that the country is preparing for a test, according to analysis of new satellite images by the defense publication IHS Janes.
Mining carts and excavation equipment at Punggye-ri's tunneling area can be seen in satellite images taken by Digital Globe and GeoEye in the past month.
Earth and debris are being removed from the tunnel in the largest quantities seen so far, according to the Janes assesment.
An image from mid-April shows a full mining train, including an engine and several carts, outside of the tunnel.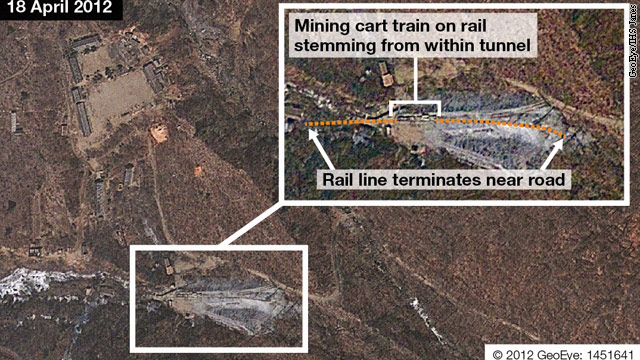 And a more recent shot on May 9 reveals new road networks at the site along with carts and a vehicle at the facility.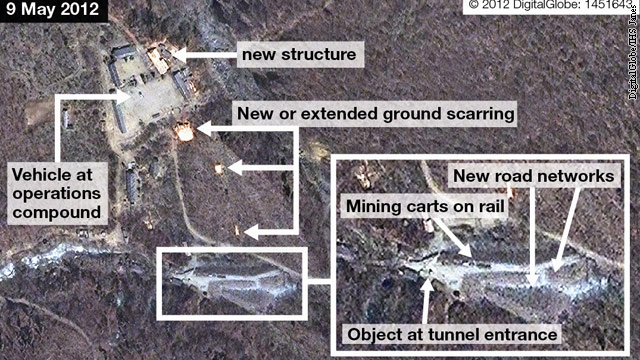 "North Korea tested nuclear devices at Punggye-ni in 2006 and 2009. A third nuclear test by North Korea would be the latest move in restarting its nuclear weapons program, which it agreed to mothball in a 29 February deal with the U.S.," said James Hardy, an Asia-Pacific specialist at IHS Jane's Defence Weekly.
The top U.S. envoy for North Korea warned Pyongyang Monday against a possible third nuclear test.
"I think it would be a serious miscalculation and mistake if North Korea works to engage in a nuclear test," Glyn Davies told reporters following a meeting with his South Korean and Japanese counterparts in Seoul.
Many analysts assume an atomic test by North Korea is just a matter of time following the failure of Pyongyang's rocket launch on April 13. Two previous rocket launches in 2006 and 2009 were followed by a nuclear test.
Davies pointed to the international condemnation following the recent rocket launch, saying Pyongyang knows what kind of response a further provocation would elicit. Pyongyang had agreed a deal with the Washington just weeks before the April launch, with the deal guaranteeing no rocket or missile tests and access for nuclear weapons inspectors in return for food aid.
"They've sent a signal that they can't be trusted to follow through on their own undertaking on their own promises," Davies said.
But Davies did leave the door open for further negotiations, saying the United States has a dual-track policy of engagement on the one hand, pressure on the other. He insisted that the "engagement aspect remains open."
G8 leaders meeting in the United States over the weekend agreed that North Korea faces further isolation if it continues its pursuit of a nuclear program.
CNN's Paula Hancocks contributed to this report.