By Mike Mount
Inside the Pentagon there are historical displays for almost everything the military has done dating back to this country's Revolutionary War. There are also models of all kinds: planes, trucks, missiles, ships and submarines.
On Wednesday an unassuming display popped up in one of hallways with little fanfare. At first there was passing interest, but as word spread more and more people started to gather around, asking questions and taking pictures.
The Styrofoam-and-acrylic model turned out to be a bit of new Pentagon history - it shows Osama bin Laden's walled compound and surrounding farmland.
Designed and built to be used in the planning for the May 2011 raid that killed the al Qaeda leader, the model also was taken to the White House to brief President Obama on plans for the raid.
It was built over a six-week period in the months before the raid and has sat on display in the lobby of the National Geospatial Intelligence Agency in Fort Belvoir, Virginia, just a few miles from the Pentagon and White House.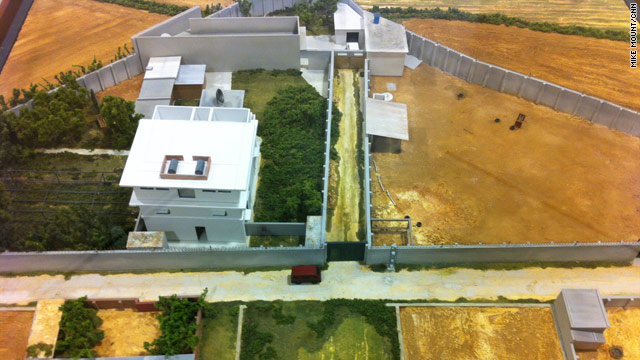 Until last week, the model was considered classified and only those working or visiting the building could see it.

Now it is declassified, and agency officials wanted to bring it over to the Pentagon for a brief time to show it off to Department of Defense "customers" to highlight what the National Geospatial Intelligence Agency can do for them, according to an agency information sheet.
The to-scale diorama helped the Navy Seals literally measure the steps it would take to get to bin Laden.
"We were able, through what we call pattern-of-life activity analysis, to determine that there was certainly a very important person there because there was operational security that was taking place at that compound that was unusual for any other compound in that area," Letitia Long told CNN's Security Clearance last March.
"It was a large compound. It was built in a very different way than surrounding compounds ... (featuring) the situational security, the high walls, the concertina wire, very little interaction with other members of the community," Long said.
After its brief display at the Pentagon, the model will return to the lobby of the National Geospatial Intelligence Agency building.