Editor's Note:  Barbara Starr is in Jordan covering the Eager Lion 2012 exercise.  Read her reporting here.  Watch her reports on Situation Room with Wolf Blitzer (4pET-6pET).
By Barbara Starr
It couldn't come at a more delicate time in the Middle East. No one will say it publicly, but the Eager Lion 2012 exercise - and the 12,000 multinational forces gathering in Jordan - are sending a not-so-quiet message to others in the region: they are ready for whatever comes.
From now until the end of May, one of the largest multinational military exercises the region has seen is taking place in Jordan. There are more than 19 nations, including the United States and a number of Arab and European allies, gathering to practice their combat skills, just in case.
Several U.S. military officials say while it's not the primary intention, the exercise is meant to be noticed by Syria and Iran especially. The message: even with the United States out of Iraq, and winding up the war in Afghanistan, there is a formidable U.S. presence in the region, and other countries are capable of filling in the gaps.
The U.S. Navy already is keeping two aircraft carriers in the next-door Persian Gulf region, and stepping up the presence of minesweepers in those waters. The Air Force has sent half a dozen F-22 fighters to the United Arab Emirates. The Joint Special Operations Command has conducted several deadly drone strikes against al Qaeda in Yemen.
But Eager Lion is taking it one step further. Marines will train in southern Jordan on their amphibious landing and warfare skills. But there will also be a number of the most elite U.S. Special Operations troops, training with Jordanian special forces units in counterterrorism and other assault operations.
The exercise is part of the overall U.S. military strategy to support Jordan as that country grows increasingly concerned about the unrest across its northern border with Syria. Jordanian officials are especially concerned about the potential for Syria to forces tens of thousands of its Palestinian refugees into Jordan, as well as Syrians escaping the fighting.
There is concern in a worst case scenario that the Syrian regime could lose control of some of its chemical or biological weapons stocks and they could somehow illicitly come into Jordan.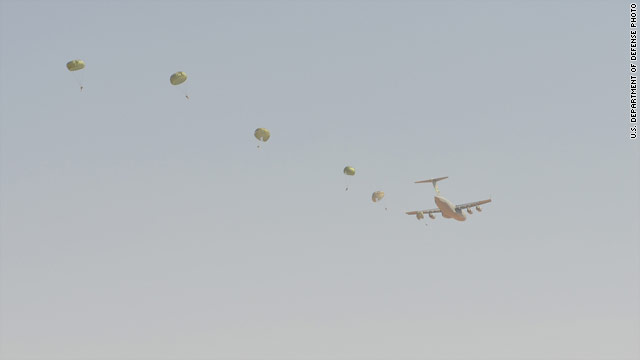 So a major portion of the exercise will also be devoted to training together on dealing with refugee flows and managing a chemical or biological weapons crisis.
But publicly, Jordanian officials say the exercise is not about their neighbor to the north.
"This has nothing to do with Syria. We respect the sovereignty of Syria. There is no tension between the Syrians and us. Our objectives are clear." Major General. Awni el-Edwan, Chief of staff of the Jordanian Operations and Training Armed Forces. "No forces will be deployed north of the 32nd parallel. The exercise is not connected to any real world event."
Officials quietly acknowledge all U.S. military training in the region now could be useful in the event of action against Iran. But officials strongly say Eager Lion is not aimed at either country, only at "realistic threats" in the region as one Pentagon official described it to CNN.
"Training events such as Eager Lion provide our forces with an opportunity to practice their language skills, immerse themselves in the culture, learn different tactics, techniques and procedures," Maj. Gen. Ken Tovo, head of the U.S. Special Operations Forces, said.
U.S. Special Operations Forces is expected to take on an increasing role in Middle East, both conducting drone operations in places including Yemen, but also emphasizing training with U.S. allies in the region's countries so they can take military actions when needed themselves.