By Suzanne Kelly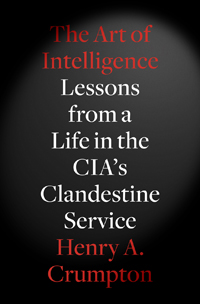 "The Art of Intelligence" - the new memoir of former U.S. spy Hank Crumpton - lays out not only the sexier side of that life, but also the inherent frustration that often comes with it.
Crumpton's was a frustration decades in the making, from his time as a clandestine officer recruiting agents in dark corners of Africa to taking a leading role in the CIA's effort to blaze a pathway to justice in Afghanistan after the attacks of September 11.
His tactics and methods earned him a reputation not only in the tribal regions of Afghanistan, but inside the Washington Beltway as well, where he often sparred with policymakers over what he thought he needed to do his job and what they thought he needed to do his job.
In 2005 though, he took off the spy hat and tried his hand at joining the diplomats.
Former Secretary of State Condoleezza Rice nominated Crumpton to serve as the State Department's coordinator for counterterrorism with the rank of ambassador, and his reputation in the field followed him. Crumpton writes in his book that upon hearing of the nomination, then-President George W. Bush asked, "The throat slitter as a diplomat? Is that working?"
It's true that Crumpton had engaged in merciless tactics in Afghanistan, many of which he will not recount as he cites allegiances to the CIA code of not discussing sources or methods. But there is plenty of detail in his book, about the Predator campaign for example, and how it was fueled by a frustration over the gap that existed between the operatives on the ground who had eyes on Osama bin laden back in the late '90s and the decision-makers back in Washington who Crumpton says didn't really understand the threat bin Laden posed.
If Crumpton was merciless with his enemies, he is equally so in launching a less-than flattering assessment of policymakers and their lack of understanding of the role intelligence should play in the world in which we find ourselves today: a world where enemies no longer have to be nation states, sometimes they can be a couple of guys with a website using religion as an excuse to spread their hatred.
"I think it's an important trend," Crumpton said from New York, where he is launching the sale of his new book, which reached No. 4 on the Amazon best-seller list within hours of being released. "If you look at the role of non-state actors overall both as adversaries as enemies, as allies as potential allies, as citizens, and institutions that we need to protect, I think that they are increasingly a part of the landscape."
In 2002, after the bulk of the CIA's heavy lifting in Afghanistan had been passed to the U.S. military, Crumpton requested and received an academic sabbatical from the CIA. He signed up for a class at the Paul H. Nitze School of Advanced International Studies at Johns Hopkins. The class titled, "The Art and Tradecraft of Intelligence," was being taught by Jennifer Sims.
That was the beginning of long discussions between the two about policy and practice, Hollywood portrayals and public opinion and deep thought on the overarching issue laid out in his book: that all Americans have a basic responsibility to better understand how intelligence fuels policy.
Crumpton often reaches back to lessons learned in the past to dictate where we're headed when it comes to the ever-changing intelligence landscape.
From 2003 to 2005, he oversaw the CIA's clandestine operations inside the United States, run by a little-known and little-talked-about division within the agency called the National Resources Division.
Yes, the CIA operates inside the United States.
While it cannot spy on U.S. citizens at home, the office works with business and domestic law enforcement agencies. It recruits foreign nationals and gathers information on foreign nationals. It is another sign of the often blurred lines of responsibility between the CIA and the FBI, but one that Crumpton sees as being distinct and critical.
"Its increasingly important," he said, "because it illustrates the growing value of the U.S. intelligence community's relationship with the private sector in particular, but also other federal and even state and local law enforcement entities."
And the private sector is where Crumpton sees a critical intelligence partnership.
"The disruptive technologies and how they're impacting how we spy and how we fight and how we live" is key, he said. "And the private sector is driving that by creating the new technologies, but they are also becoming the targets of our adversarial forces. If you look at terrorist attacks, they're mostly now against private sector targets, so the private sector has got a growing stake in this battle whether they wanted it or not."
Crumpton lays out the emergence of four types of technologies that concern him the most: biotechnology, artificial intelligence, the increasing and more sophisticated use of robotics, and nanotechnology.
"When I was at National Resources Division, that's what we focused on just because of the disruptive and profound changes that they're bringing," Crumpton said. "And not just those four alone, but when they overlap and converge. I think we're just at the beginning of this transformation."
In his book he writes about one specific way that technology is changing the way spies operate.
"Right now if you look at nanotechnology and the advancements in electronics, specifically in devices that serve as beacons, the combination of those two sciences now enables a service to basically weave into the fabric of a uniform, a beacon," he said. "So if you're a CIA officer and you go to your tailor and he gives you a suit and you walk out, you could be wearing the beacon of an adversary and not even know it."
Crumpton says the private sector is invaluable to the future of espionage for several reasons: They can provide cover, technical assistance, technology itself, and a better understanding of how to use that technology.
He has a vested interest in that view, of course. The former spy is now part of the private sector himself. He heads The Crumpton Group, based in Arlington, Virginia, which serves a host of companies, advising them on the risks and opportunities of doing business in emerging markets. And risk is something he knows a thing or two about.