By Paul Cruickshank, CNN Terrorism Analyst
Editor's note: On Tuesday an American of Bosnian descent became the third man to be convicted of a suicide bombing plot against the New York subway. This account draws on court testimony and documents as well as interviews with U.S. counter-terrorism and intelligence officials.
The e-mail was sent from somewhere in Pakistan at 7:14 a.m. Eastern Daylight Time on September 6, 2009. It was instantly logged by the massive data-gathering computers of the U.S. National Security Agency in Fort Meade, Maryland, and at GCHQ, the UK's signals intelligence agency.
The sender was someone known to U.S. and UK security services as "Ahmad," who'd been on the radar of British intelligence since a suspected al Qaeda cell had been uncovered in Manchester that year, according to senior U.S. counterterrorism officials.
But the recipient was previously unknown, with the address njbzaz@yahoo.com. Whoever it was lived in the Denver area. Alarm bells rang across the U.S. intelligence establishment. Who in Colorado was in touch with a man suspected as a handler for al Qaeda?
Within two hours, njbzaz replied, "Listen I need a amount of the one mixing of (flour and ghee oil) and I do not khow the amount."
Minutes later, he sent a follow-up: "Plez reply to what I asked u right away. the marriage is ready flour and oil."
U.S. authorities quickly established that the Denver-based e-mailer was Najibullah Zazi, a 24-year-old Afghan resident alien. He had moved to the Denver area from New York in January 2009 and taken a job as an airport shuttle van driver.
He appeared to be asking for clarification on the quantities of chemicals needed to make a bomb. Flour had frequently been part of the mixture in al Qaeda bombs in the West.
But U.S. intelligence agencies had no idea what Zazi was planning or whether he had co-conspirators. The FBI decided to track his movements and was soon trying to keep up with him.
Zazi left Denver in a rented Chevy Impala early September 9. The FBI was on his tail and asked a highway patrol officer to find a pretext to stop him - and find out where he was going.
He told the patrol officer that he was driving to New York for a business meeting. He seemed nervous, the officer recalled, but was allowed to go after getting a written warning for speeding.
As Zazi drove cross-country at speeds exceeding 100 miles an hour, U.S. national security officials were in a state of high anxiety. "They were s**ting bricks," one source said. The anniversary of 9/11 was only days away, and President Barack Obama and other world leaders were soon set to travel to New York to address the U.N. General Assembly.
At 3:40 p.m. September 10, Zazi was approaching the George Washington Bridge into New York. The FBI instructed Port Authority police to set up a roadblock and include his car in a seemingly random stop and search operation. They brought in a canine to sniff around the vehicle but did not open the trunk. The dog detected nothing, and Zazi was allowed to continue into the city.
But in the trunk, hidden among clothes in a suitcase, was a jar in a plastic bag containing a powerful detonating explosive.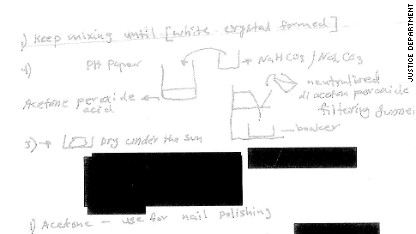 The path to terror
Three years earlier, Zazi had been working as a coffee vendor near Wall Street. Customers described him as cheerful. But he was gradually beginning to perceive the war in Afghanistan as hostile to Islam. And by 2008, he wanted to play a part in what he saw as the inevitable victory of the Taliban.
He was not alone. In recent court testimony, Zazi said that he and two others - Adis Medunjanin and Zarein Ahmedzay - swore an oath to join the Taliban outside a mosque in Queens. Ahmedzay said a Taliban group was operating near his family home in Afghanistan. Zazi would finance their trip, and buy computer equipment to give to the mujahedeen, by running up $50,000 in credit card loans.
In late August 2008, the trio traveled from New York to Pakistan. Days later, Medunjanin and Ahmedzay tried to cross the Afghan border but were turned back by Pakistani police. The trio then began searching for contacts in the city of Peshawar who could connect them to a jihadist group. An imam introduced them to a Pakistani man described by Zazi as in his mid-20s. He was the Ahmad of the e-mails.
Ahmad drove the three young men up into Pakistan's tribal territories but told them the group they would meet might want to send them back to America.
"We took it as a joke," Zazi said later, explaining that they were determined to fight in Afghanistan.
In a guest house near the town of Miram Shah, the trio were introduced to two senior members of al Qaeda's external operations unit: Rashid Rauf, a British operative who orchestrated the London bombings in 2005 and the 2006 transatlantic airline plot, and Saleh al Somali, a senior East African operative who headed up the unit.
Both wanted the men to return to the United States to plan an attack there. The trio explained that their intention was to fight in Afghanistan and that they did not want to return to the United States.
"Keep it in your mind. Take time to think about it," al Somali replied.
At an al Qaeda camp in South Waziristan, the group met American Adnan Shukrijumah, who had joined al Qaeda in Afghanistan in 2000. He also tried to persuade them to return to the United States, saying they could avenge the U.S. drone attacks and pressure the United States to leave Afghanistan. He told them that other al Qaeda operatives lacked their travel documents or comfort operating in the United States.
Eventually, after Shukrijumah became increasingly insistent, according to Ahmedzay, they agreed - and discussion began about possible targets: the New York Stock Exchange, Times Square, Penn Station, Grand Central Station, movie theaters and the New York subway, because it was "the heart of everything in New York City," Zazi said later.
Shukrijumah suggested striking a Wal-Mart because it would damage the U.S. economy and told them that if they could not carry out a large attack, they should launch something smaller.
Zazi, escorted once again by Ahmad, later received specialized explosives training in South Waziristan, where he learned to build and successfully tested a variety of explosive devices. (Medunjanin had flown home because his visa was about to expire, and Ahmedzay had gone to visit his wife in Afghanistan.) He was told how to find the necessary chemicals and told how to pack ball bearings into the device.
Soon after Obama won the U.S. presidential election in 2008, Shukrijumah came to the camp and told Zazi he wanted his group to send a message to shake the incoming president by launching an attack during the transition before he took office. Zazi told him he'd need more time. But he signaled his commitment to the plot by recording a martyrdom video that Shukrijumah scripted, which could be used by al Qaeda after the attack. Before returning to the United States he and Ahmad set up a way to communicate by coded e-mails.
Preparing an attack
Zazi returned to New York in January 2009 but soon moved to the Denver area to try to allay any suspicions counterterrorism agencies might have.
In spring 2009, he returned to New York and met with Ahmedzay and Medunjanin in Queens. As they shot hoops on a basketball court, Zazi asked, "Are we still into the plan?" According to Zazi's account, they said they were. But Ahmedzay didn't tell Zazi that his wife had threatened to set fire to herself if he was involved.
They settled on a plan to launch an attack during Ramadan (Islam's holiest month, which that year was from late August to late September). Their hope at this stage was to explode a huge car bomb outside a New York building. Ahmedzay was taking advantage of his work as a cab driver to scope out targets.
Zazi returned to Denver and began to purchase chemicals necessary for the attacks, from hair salons and hardware stores. Several months later, the FBI was able to retrieve security camera footage of his shopping spree. He had agreed with Ahmedzay that the two of them would do most of the preparations for the attack and would bring Medunjanin as a suicide bomber.
In August, Zazi returned to New York and met up with Ahmedzay, telling him he did not think he could make a large car bomb because of missing pages in the notes he had transcribed but could build smaller suicide vests. During a discussion later in this trip in the seclusion of Bear Mountain State Park in upstate New York, they agreed that Zazi would make the detonators in Denver. They also settled on a plan to target New York subways during morning or afternoon rush hour so they could inflict the heaviest number of casualties, instill fear and inflict maximum economic damage.
On August 28, Zazi reserved a room at HomeStead Studio Suites in Aurora, Colorado, and worked over the next three days on building a detonator in its kitchen. Eventually, he was able to make a quantity of the high explosive TATP, which he placed in a white glass jar. He took it to an open area for a test.
"It worked the way I had been shown," Zazi testified. It was a significant breakthrough, as detonators are the trickiest parts of explosive devices to make.
He called Ahmedzay in New York. "I fixed the wires in the computer," he said in code he presumed his friend would understand. But in making the main charge, he hit a snag. He wanted to make a bomb based on a mixture of flour and ghee oil but had failed to make an accurate note of the correct mixture. At the end of August, he contacted a relation in Peshawar to ask Ahmad to e-mail him.
On the afternoon of September 6, several hours after Ahmad got in touch by email, Zazi again checked into the same Denver hotel room to make an additional amount of detonating explosive so there would be plenty to make three bombs. By then, Zazi had decided to make the main of the charge in New York. He also brought up Christmas light bulbs, which he intended to modify to trigger the device, an electric measuring scale, a calculator and a quantity of hydrochloric acid for making any additional TATP.
Aborting the mission
Zazi knew something was wrong when he was stopped on the George Washington Bridge. He drove to Ahmedzay's home, gave him the detonating explosive to store there and told him to get in the car. But Zazi later testified that they were sure they were being followed. At trial, it emerged that agents assigned to New York's Joint Terrorism Task Force were on their tail.
The pair flushed the acid down a toilet in a nearby Islamic center and threw away the light bulbs. When he got home, Ahmedzay flushed the TATP detonating explosive down his toilet.
"There was some residue," Ahmedzay later said. "I light (it) with a match, and it kind of ignited and popped."
Later that evening, Zazi met Medunjanin at their Queens mosque. He took out his cell phone and wrote a text, without sending it, which he showed Medunjanin on the screen.
"Police is after me. We are done," the text read.
"I love you for the sake of God," Medunjanin replied, according to Zazi.
Zazi was arrested shortly after flying back to Denver. In his first interview with the FBI, which was videotaped and played in court, he claimed that the electronic scales found by police in New York were to help his sister bake cakes.
For months, the FBI held off arresting Zazi's two New York friends as they tried to build a case against them.
Ahmedzay was arrested in January 2010. Medunjanin was arrested the same month after crashing his car into another vehicle in what prosecutors stated was a failed suicide attack. According to court documents, moments previously, he had called 911 and exclaimed, "We love death more than you love your life."
The fixer Ahmad was picked up by Pakistani security services, according to U.S. intelligence sources, and is now in custody. He had also acted as the point person in a plot by a Norwegian al Qaeda terrorist cell. A senior U.S. counterterrorism official said his poor operational tradecraft in using the same e-mail address to communicate with different plotters provided U.S. authorities with a lucky break. At trial Zazi testified his cell was planning to carry out the attack just days after he drove up to New York City.
Shukrijumah was promoted up the al Qaeda hierarchy after Rauf was killed in a drone strike in Waziristan in November 2008.
CNN's Susan Candiotti, Kiran Khalid, Tim Lister, Ross Levitt and Michael Teng contributed to this report.