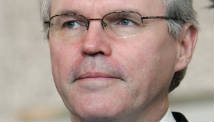 by Christopher Hill, special to CNN
Editor's note: Christopher Hill, dean of the Josef Korbel School of International Studies at the University of Denver, served as U.S. ambassador to Iraq from 2009-10.
In 1949, the communist takeover of China was the beginning of another campaign in the U.S.: Who lost China? It went on for years.
The failure to conclude an agreement to maintain U.S. troops in Iraq is already becoming grist for critics to blame the administration for somehow "losing Iraq" and failing to ... do what? Convince the Iraqis they need our troops against Iranian aggression?
To read the full editorial, click here.