Each week, CNN examines one of the most wanted terrorists around the world. Check out more of the Most Wanted.
Who is he?
An American-born radical cleric who now lives in Yemen, Anwar al-Awlaki is the public face of al Qaeda in the Arabian Peninsula (AQAP), one of the most active al Qaeda affiliates.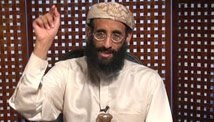 Born in New Mexico, he preached at a mosque in Virginia before leaving the U.S. for the Middle East. The U.S. regards al-Awlaki as the biggest threat to its homeland security.
U.S. officials say al-Awlaki helped recruit Umar Farouk AbdulMutallab, the Nigerian man charged with trying to blow up a transatlantic flight as it landed in Detroit, Michigan, on December 25, 2009.
The militant cleric is also said to have exchanged e-mails with accused Fort Hood shooter Maj. Nidal Hassan who killed a dozen fellow soldiers and a civilian in a rampage at the Texas base.
AQAP claimed responsibility for the attempt to ship explosives into the United States via cargo planes late last year.
In 2011, al-Awlaki narrowly survived an American drone assault after he switched vehicles with fellow jihadis, a senior security official told CNN.
At a U.S. congressional hearing earlier this year, Michael Leiter, Director of the National Counterterrorism Center, said: "I actually consider al Qaeda in the Arab peninsula with al-Awlaki as a leader within that organization as probably the most significant threat to the U.S."
Date of Birth: April 22, 1971
Place of Birth: United States
Nationality: U.S. and Yemen