Each week, CNN examines one of the most wanted terrorists around the world. Check out more of the Most Wanted.
Is Ilyas Kashmiri alive or dead? One report said that a U.S. drone strike had killed him, but later a U.S. Defense Department spokesman said the United States could not confirm that Kashmiri was indeed dead. Learn more about the man some call one of the most dangerous men in the world:
Who is he?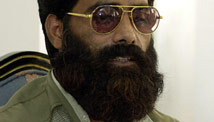 Regarded as one of the most dangerous men in the world by counter-terrorism officials on three continents, Ilyas Kashmiri is a veteran jihadist who in his early years fought Indian security forces in the disputed territory of Kashmir and the Russians in Afghanistan, where he lost an eye and finger.
After falling out with his sponsors in the Pakistan military, Kashmiri moved his base of operations from Pakistani Kashmir to North Waziristan, the semi-autonomous tribal areas bordering Afghanistan.
As commander of "Brigade 313," part of Harakat-ul-Jihad-Islami (Movement for an Islamic Holy War), he formed a close relationship with al Qaeda.
Kashmiri's number one enemy is still India. His group was thought to be responsible for the bombing of a bakery popular with foreigners in Pune in 2010. But there is plenty of evidence he has ambitions beyond South Asia.
Terrorism analysts have described Kashmiri has al Qaeda's "military brain."
Intelligence sources on both sides of the Atlantic also believe Kashmiri is trying to get teams into Europe to launch coordinated Mumbai-style attacks in several cities.
• Has been said to have ties with David Coleman Headley, the U.S. citizen who confessed to helping scout targets for the attack in Mumbai, India, in November 2008.
• The U.S. indicted him for a part in the plot against the Danish newspaper Jyllands-Posten which published cartoons of the Prophet Mohammed
• Made his name fighting Indian troops in Kashmir. Had ties with Pakistani intelligence before turning against the govt in a failed presidential assassination attempt in 2003.
• Has been linked to planned attacks in Denmark, Germany, France, the UK, and the U.S.
• Reported to be a favorite of Osama bin Laden.
Date of Birth: 1964
Place of Birth: Bhimber, Samahani Valley, Pakistan-administered Kashmir
Nationality: Pakistani
Also Known As: Muhammad Ilyas Kashmiri, Elias al-Kashmiri, Ilyas, Naib Amir, Commando Commander