Each week, CNN examines one of the most wanted terrorists around the world. Check out more of the Most Wanted.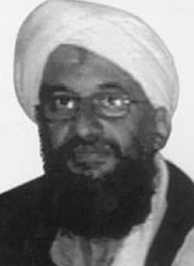 Who is he?
Ayman Al-Zawahiri has played a defining role in al Qaeda for over a decade as bin Laden's deputy.
Born into a wealthy family in Cairo, al-Zawahiri is a physician and founding member of the Egyptian Islamic Jihad (EIJ), a militant organization that opposed the then secular Egyptian government of Hosni Mubarak and sought its overthrow through violent means.
Like bin Laden, al-Zawahiri also went to Afghanistan during their fight against the Soviets, although he was there primarily to offer his medical expertise.
By the 1990s, he again refocused his attention on undermining and attacking the Egyptian government and, eventually, the U.S.
In 1998, when the EIJ effectively merged with al Qaeda, he sent a fax to the Al-Hayat newspaper warning Americans. Three days later on August 7, suicide truck bombers hit the U.S. embassies in Nairobi, Kenya and Dar es Salaam, Tanzania, killing 224 people.
The FBI is offering a $25 million reward for information leading to his capture - the same as the reward for bin Laden - reflecting al-Zawahiri's importance to the United States.
Paul Cruickshank, a CNN terrorism analyst, said: "Of all al Qaeda's senior leaders, al-Zawahiri is probably the one in most jeopardy. Western intelligence officers have told us that in recent times bin Laden and al-Zawahiri were probably in relatively close geographic proximity and also in touch to some degree, so all this information may help America track down al-Zawahiri."
• $25 million reward offered
• Wanted for murder, conspiracy to murder, and attack on federal facility
• Also Known As: Abu Muhammad, Abu Fatima, Muhammad Ibrahim, Abu Abdallah, Abu al-Mu'iz, The Doctor, The Teacher, Nur, Ustaz, Abu Mohammed, Abu Mohammed Nur al-Deen, Abdel Muaz, Dr. Ayman al Zawahiri
Date of Birth: June 19, 1951
Place of Birth: Egypt
Nationality: Egyptian
More info
Latest news
al-Zawahiri in the U.S. crosshairs
Al Qaeda power struggle
Rewards for Justice website
Photo courtesy Rewards for Justice